Accurate results even with large tilt angles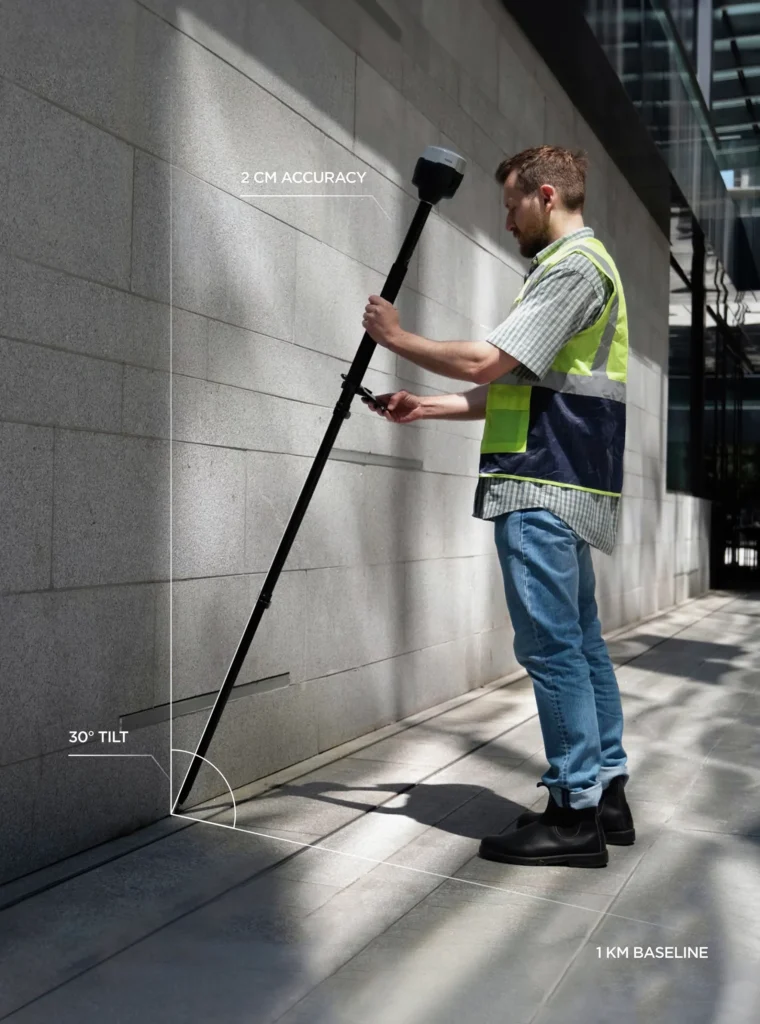 The IMU-based tilt compensation in Reach RS3 enables you to make measurements with up to 60 degrees of tilt while still staying within 20 mm of accuracy.
Reach RS3 continuously measures and corrects tilt in real-time to keep you on target.
Survey and stakeout faster –
No need to check the bubble
Effortless and robust –
Tilt compensation
Calibration-free

We calibrate each unit individually at the factory, so you can get your Reach RS3 up and running right out of the box.

Immune to magnetic disturbances

Unaffected by magnetic fields, the RS3 provides robust tilt compensation even when working close to metal structures.

Quick initialization

Tilt initialization takes about 20 meters of walking or 10-20 seconds of tilting. Usually ready on the way from the car.

Get corrections from CORS, Reach,or 3rd-party base
NTRIP, Base and Rover
Work in RTK with VRS or a single baseline CORS network. You
can also connect another GNSS receiver as an NTRIP base using Emlid NTRIP Caster.
Any receiver with RTCM3 support
Comes with software for the field and the office
Emlid Flow

Emlid Flow efficiently manages all field-related tasks, including receiver configuration, RINEX logging, data collection, and stakeout.

Emlid Flow360

You can access your survey data via the cloud-based Emlid Flow 360. It allows you to prepare, manage, and export your projects from a browser.

Emlid Studio

Emlid free post-processing software for macOS and Windows.

Emlid Caster

Connect up to 10 rovers to your base station via the internet or set up your own NTRIP network with Emlid Caster.
Rugged and compact
Dimensions: 126 x 126 x 142 mm
Weight: 950 g
IP67

RS3 is waterproof up to a one meter depth. Silicone plugs completely seal and protect all connectors from water and dust.

Industrial battery

The Reach RS3 Li-Ion battery handles high and low temperatures well and over 2000 cycles of charging and discharging while maintaining its original capacity.
While others are hot-swapping batteries, your Reach just keeps working.

-20 to +65 ºС

We extensively tested Reach RS3 in conditions that simulate the coldest winters and hottest summers.

Impact-resistant

The body of the Reach RS3 is made of polycarbonate and coated with elastomer. The combination of these materials makes your Reach RS3 drop resistant and ready for the harshest conditions.
In the package
1x Reach RS3
1x LoRa antenna
1x USB cable
1x Carrying case with a strap